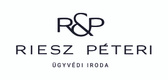 The practice is led by founding partners Dr. Tamás Riesz LL.M. and Dr. Csaba Biro whose experience and expertise means that they are able to get to the heart of matters quickly and to come up with insightful and practical solutions in the shortest possible time frame. RIESZ & PÉTERI employs well experienced highly qualified professional lawyers enthusiastic trainees and paralegals.
RIESZ & PÉTERI develops long-term relationships with clients proactively looking for ways to help them doing business and efficiently resolve their legal matters.
The firm is dedicated in providing high quality professional and practical advice to assist clients in business development decisions and strategic planning.
Our fundamental mission is to provide our clients with excellent legal advice in a trustworthy manner, while establishing long-lasting client relationships.
Antitrust & Competition Law
Business Advisory & Consulting Services
Business Process Outsourcing
Civil Litigation
Collections & Debt Recovery
Commercial & Corporate Law
Compliance, Risk & Corporate Governance
Corporate & Project Finance
Foreign Direct Investment
Immigration Law
Intellectual Property & Trademarks
Investigative Due Diligence
Chemicals & Pharmaceuticals
Construction
Distribution & Franchising
Food and Beverages & Tobacco
Government & Public Sector
Healthcare & Life Sciences
Logistics & Distribution
Real Estate
Retail, Consumer Products & FMCG
Technology, Media & Telecom